MANUELA´s ambition is to provide the European industry with world class, reliable Pilot line manufacturing service leveraging metal Additive Manufacturing products. This will be achieved by having the hardware solutions cost-efficiently connected to the best possible competences and capacities across Europe to cover the full range of powder bed fusion technologies from medium to large scale LPBF as well as EBM.
Since, no single machine solutions can fit all necessary end user demands, this concept is expected to best possible solution from cost and agility point of view. Leading European institutes in the field of AM have hence agreed to link their manufacturing capacity, technological know-how and facilities in the MANUELA project to develop a pilot line service capable of producing high quality series of products on state-of-the-art equipment in a reliable and production efficient way. The strength of the MANUELA pilot line lays in the cooperation between the RTD partners enabling industrial partners and end users to request most advanced demonstrators by selecting from the various manufacturing routes and functionalities provided. This ensures that the end-users can expect optimum output with respect to costs, reliability and performance. Hence, MANUELA is the most comprehensive AM pilot line service related to AM-parts realization, involving designing methods, the AM processes, post-AM treatment and part characterization.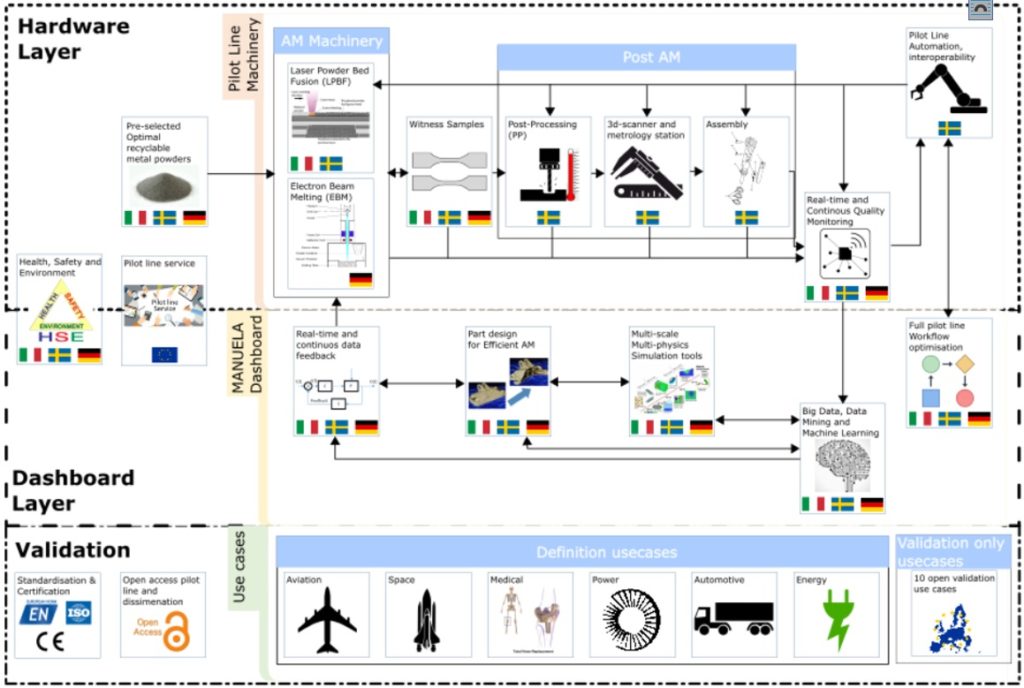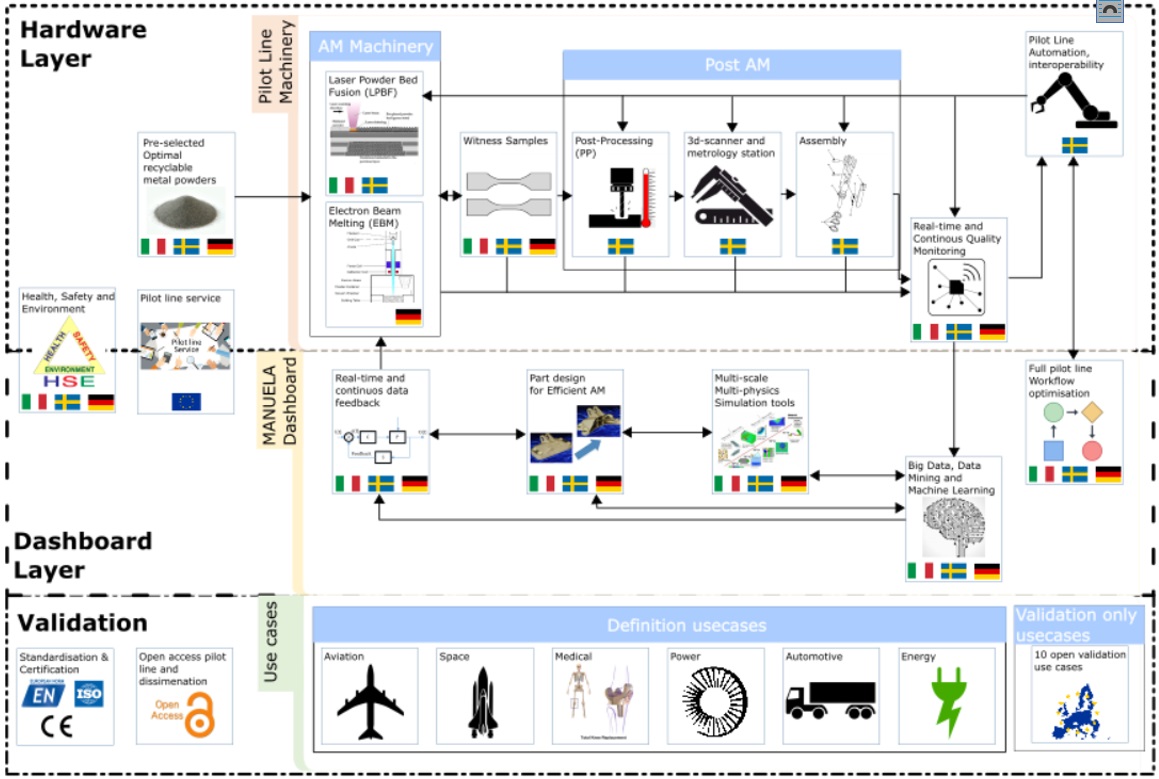 The principle five innovations, leading to the pilot line deployment, combined in MANUELA are:
Tailored recyclable metal powder, for robust and reliable part manufacturing
Comprehensive pilot line dashboard allowing to design, simulate and follow the manufacturing process
Full pilot line workflow optimisation and automation
Exploiting collected process data on the full pilot line and part, towards real-time in-line process monitoring feedback and process adaptation
Establish the qualification and certification standard for full chain process in the aim improve the productivity, particularly in such fields where the certification is mandatory:  automotive, aeronautic and medical (MANUELA's use cases)
Project workplan
The approach of MANUELA is based on a balanced, well-structured and well-scheduled combination of research, focused deployment and validation, dissemination and raising stakeholders' awareness. It comprises three main phases as follows:
Technology improvement: bringing the proposed technologies to the targeted TRL and tuning them to the technological objectives of the project accordingly. Refining the demonstration roadmap based on use cases study.
Pilot line integration, path to market assessment: deploying the technology upgrades in the pilot line; performing the first tests using the reference parts, validation of the technologies on pre-defined use cases; refining the pilot line management;
Pilot line service deployment and adoption: demonstration and assessment of the pilot line service potential through implementation of 10 business development cases, identifying of the project exploitable results and assessing best exploitation strategy based on the feedback of business stakeholders; cross-cutting assessment and targeted dissemination of the project results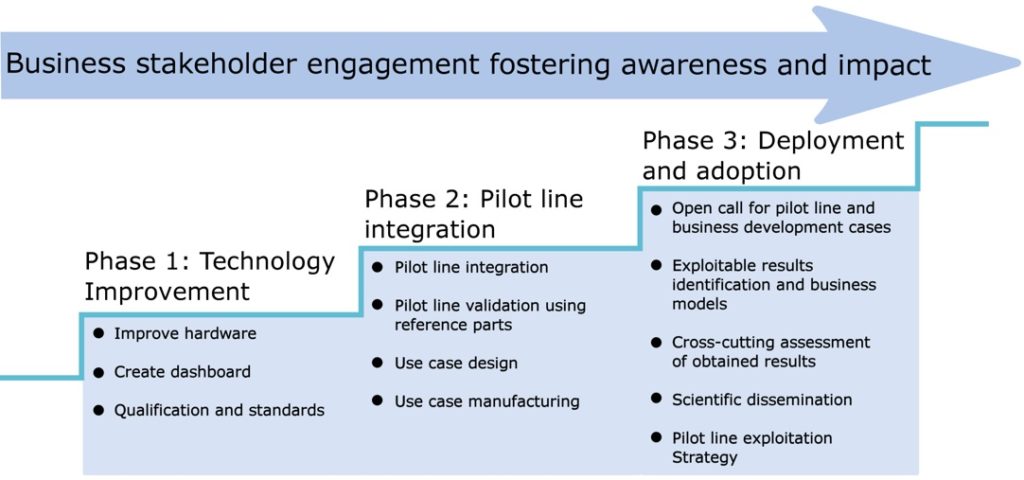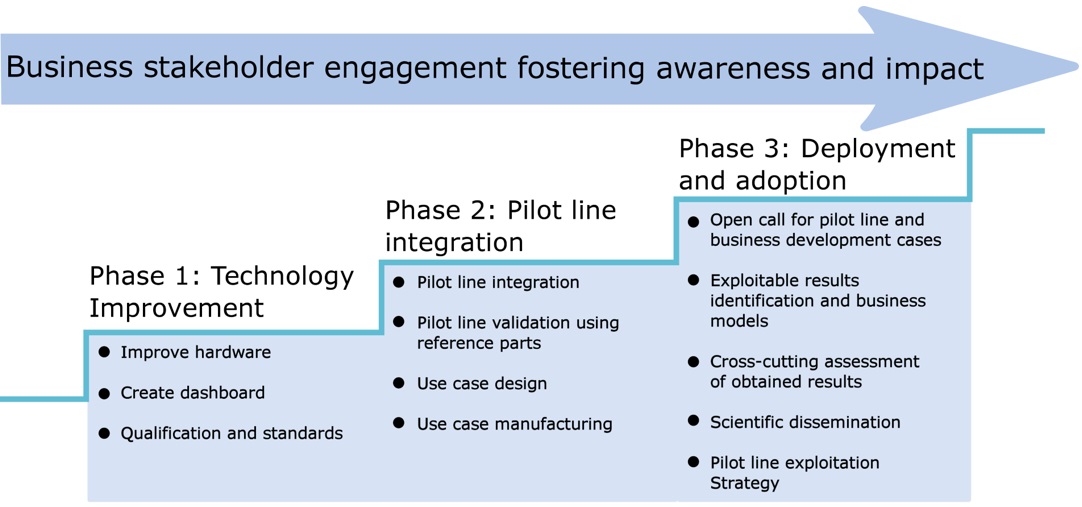 Expected impact
Production time saving up to 60% over the full production chain thanks to:
An optimized manufacturing flow, (reducing manufacturing flow time by a factor of 3.7 or more)
An increased manufacturing speed
An optimized post AM treatment (reducing time per component up to 37.5 %.)
Production speed will be increased by > 30% thanks to:
Reduction of the component volume to be built thanks to proper design for AM as well as optimal component placement in the build chamber
Maturation of the process utilizing process optimisation for the component design, variation in powder layer thickness and scanning speed
Utilization of the high-power energy source
Robustness of metal AM-based processes will be increased by more than 40% thanks to:
Reduction of uncertainties of selected material quality parameters
Usage of multi-physics multi-scale simulation tools combined into a digital twin,
Real time process monitoring, fault detection and adaptation thanks to big data, data mining and machine learning
Automation and traceability during post AM treatment
Robustness is directly linked to improvements in right-first-time capability, material quality parameters and product quality.
Time to market will be reduced by at least 30% through:
Production time reduction
Increase of production speed
Minimization of design iteration through first time right
Well defined standards and new certification schemes